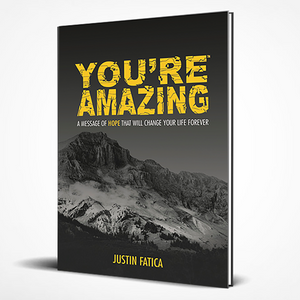 YOU'RE AMAZING BOOK
 "YOU'RE AMAZING: A MESSAGE OF HOPE THAT WILL CHANGE YOUR LIFE FOREVER" 
God intends each of us to live amazing lives and touch the hearts of others in extraordinary ways. But too many of us settle for much less. For those who long for more, You're Amazing introduces five ways to live with meaning and passion.
BE REAL. BE COURAGEOUS. BE PRAYERFUL. BE HUMBLE. BE ENCOURAGING.
With his signature hard-hitting style, Justin Fatica issues a wake-up call to embrace new possibilities, break out of mediocrity, and live a life of authentic joy. Get ready - God wants to do something amazing in your life!
"You're Amazing is a message for anyone who has ever dared to question the meaning of life. Justin's honest approach to everyday challenges is a call to action for each of us to go out and make a difference in today's messy world. Read this book - it's amazing."
- KEN BLANCHARD, coauthor of The New One Minute Manager and Lead like Jesus
"In You're Amazing, Justin Fatica delivers a powerful message that promises a life of authentic joy through knowing Jesus personally."
- DOUG KECK, President and COO of EWTN